What is Snap-On Smile?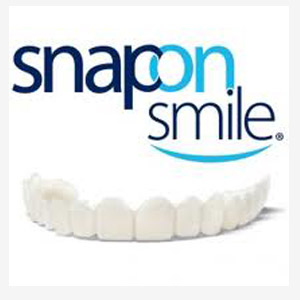 Snap-On Smile is a patented, easy and painless way to obtain a beautiful smile. At Drummoyne Dental Practice, our dentists can now provide you with a Snap-On Smile that is thin and strong with the look of natural teeth.  You are able to eat and drink with your Snap-On Smile. Snap-On Smile utilises a unique, proprietary formula of hi-tech dental resin which makes it very thin yet extremely strong. It fits right over your own teeth to give you a beautiful, natural looking smile—even if you have stains, chips, gaps or missing teeth.  Snap-On Smile can be life changing. It can give you back the confidence to smile. Thousands of people worldwide have already experienced the unique benefits of Snap-On Smile.
The Snap-On Smile is easy to care for and is a great long-term temporary cosmetic solution. It's available for both the upper and lower teeth.  It comes with a 12 month limited warranty against manufacturing defects.  With proper care, your Snap on smile can last from 2 to 5 years.  Getting a Snap-On Smile simply requires two, short, painless visits with no drilling, no shots and no change in tooth structure.
It is an excellent choice for:
Gaps, crooked, stained or missing teeth
Those who are not candidates for bridges or implants
Anyone who would like a Hollywood smile without the expense and discomfort of complex and invasive dental procedures
Anyone who has an old-fashioned removable partial denture and wants a beautiful, more comfortable alternative
It's easy, it's painless and you can start today!
Come in for a consultation visit with one of our dentists at Drummoyne Dental Practice, where your teeth can be assessed and the dentist can tell you whether you are a suitable candidate for the Snap-On Smile.
If your case is suited to the Snap-On Smile, then you can pick the style and shade of your new teeth
The dentist will take photos and impressions of your teeth
Your Snap-On Smile will be custom-made in the exclusive Snap-On Smile laboratory in California, USA.  It will be ready for you to pickup in about 4 to 6 weeks time.
For more information on Snap-On Smile; please contact us at Drummoyne Dental Practice on 02 9181 2226.