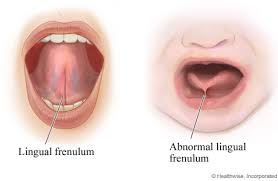 Tongue-tie (ankyloglossia) is a condition that restricts the tongue's range of motion.  At Drummoyne Dental Practice, our dentists are able to diagnose this condition at a regular dental check-up.
A person who has tongue-tie might have difficulty sticking out his or her tongue. Tongue-tie can also affect the way a child eats, speaks and swallows, as well as interfere with breast-feeding.
Consequences of Untreated Tongue-Tie
For infants and mothers, an untreated tongue-tie leads to numerous issues, notably, the inability for the infant to breastfeed successfully and painful breasts for the mother.
Children also have to contend with difficulties due to an unresolved tongue-tie issue. Those issues range from inability to chew properly, to speech and dental hygiene issues.
Furthermore, adults will have built bad habits to compensate for inadequate tongue mobility. Also one will continue to have social, speech, and dental hygiene issues.
Sometimes tongue-tie may not cause problems. Some cases may require a simple surgical procedure for correction. 
If you think you may suffer from this condition you can contact us for a consultation to discuss treatment options.