Worn down, flattened, short teeth...
Years of night time or day time grinding and clenching (bruxism) can cause a large amount of tooth wear which can lead to a flattened and worn appearance of your teeth.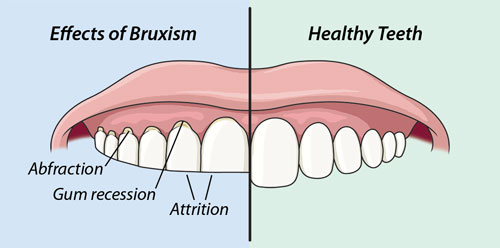 Worn down, flattened teeth are characteristic of an aged smile. In order to restore teeth to a more youthful appearance, they can be rebuilt to restore their larger original natural shape and size. At Drummoyne Dental Practice, there are different types of restorative materials which we can use to rebuild teeth. However, the material of choice would be the one that is best able to withstand the extreme forces generated during episode of clenching and tooth grinding. Ceramic restorations are often the most aesthetic, durable and longer-lasting choice.
teeth can be rebuilt to restore their larger original natural shape and size
After rebuilding the worn down teeth, it is important to protect the teeth from wearing down again due to the grinding and clenching forces. To protect the teeth in the long term, a nightguard should be worn to prevent the forces from grinding and clenching from damaging the teeth.
If stress is causing you to grind your teeth, other treatments may need to be explored which may include attending stress counselling sessions, physiotherapy or a prescription for muscle relaxants from your medical practitioner.
If you think you may have short or worn down teeth and would like to find out more, please call us on 0291812226 to make an appointment with one of our friendly dentists.