At Drummoyne Dental Practice we provide wisdom teeth removal Sydney wide. 
We aim to provide you with safe and comfortable treatment of the highest quality, at an affordable price.  
No referral is required.
We accept patients from all over Sydney.
We have an Australian trained medical specialist who can provide safe anaesthesia and sedation for our patients.  This means you can sleep comfortably while having your wisdom teeth removed and often not even remember the procedure afterwards.  A medicare rebate is even available for this service.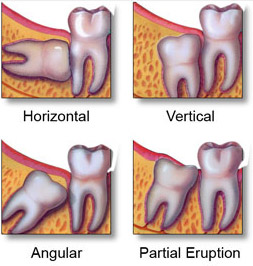 There are many different types of wisdom tooth impactions which we see and treat at the practice.  The image on the right illustrates just a few types of wisdom tooth impactions which we treat.  
Dr Jesse Wright performs the oral surgery procedures at Drummoyne Dental Practice.  He first completed a degree in chemistry prior to completing both his Bachelor of Dentistry as well as his Postgraduate Diploma in Oral Surgery at the University of Sydney.  Dr Wright also works part time at Nepean Hospital where he consults and operates within the oral surgery department.  In addition he is a clinical instructor and lecturer in oral surgery at the University of Sydney.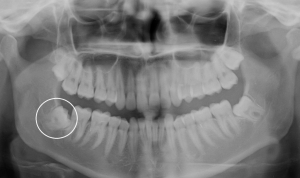 To plan for any extraction or oral surgery procedure, it is recommended that you first come in for a consultation so that Dr Wright has adequate time to discuss the procedure with you in detail and any questions you may have can be answered.  You will need to bring an x-ray image, or OPG to your consultation appointment.  If you do not have an image yet, please inform reception.
Our practice is conventiently located in the heart of Drummoyne, only 15 minutes from the Sydney CBD.  
No referral is required.  If you have any futher questions or you would like to make an appointment you can call us on 02 9181 2226
Email enquiries can be sent to:   drummoynedentalpractice@gmail.com
Practice Address:  Suite 11, Level 1, 52 Lyons Rd, DRUMMOYNE NSW 2047