Tooth Whitening at Drummoyne Dental Practice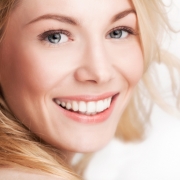 We have the ZOOM Advanced 4 in-chair and / or take home treatments available.  The in-chair procedure takes around 1 hour to complete.  Most patients choose to use the take home kit additional to the in-chair procedure to top up the whitening effect as needed.  Longevity of the whitening result depends on each person's exposure to staining products like coffee, red wine, smoking etc.  If you would like more information about tooth whitening, click this link tooth whitening.
Crowns, Bridges, Veneers
CROWNS:  For broken down teeth or teeth with larger fillings, we may suggest an indirect laboratory-made restoration known as a crown. At Drummoyne Dental Practice, we offer a range of different crowns.  All-ceramic, porcelain fused to metal, or all metal crowns are available.  The dentist will discuss these different options with you and answer any questions you may have.  The process for making a crown involves the dentist preparing your tooth for a crown, taking an impression of the teeth, and placing a temporary restoration. Crowns are custom made by dental technicians and this process usually takes 10 working days.  When the permanent crown is ready, it will be cemented onto your tooth and it will act to protect your tooth from further breakage or the risk of breakage. Crowns can be colour matched to match your other teeth.
BRIDGES:  Similar to crowns, a dentist will prepare your teeth for a bridge and are custom made by a dental technician. A bridge looks similar to a crown but its purpose is to "bridge a gap" in your teeth.                                                           
VENEERS:  Veneers are very fine coverings that are placed on chipped or discoloured teeth.  There are two types of veneer, the first is made and bonded to your tooth directly by the dentist.  The second has a process similar to crowns, where the dentist will prepare your tooth for a veneer, take an impression of your mouth, and place a temporary restoration. A dental technician will make a ceramic veneer so that the dentist can fit it.  You can dicuss with the dentist which option will better suit your particular case.
Replacement of amalgam (black/silver) fillings with tooth coloured material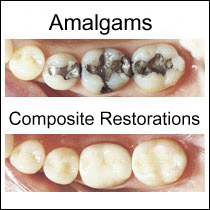 Amalgam (silver fillings) have been replaced with other methods of restoring a tooth for many reasons. One of the main reasons is because of the nature of amalgam, it may expand causing the filled tooth to crack over time.  Therefore, many patients are replacing their amalgam fillings for composite or porcelain fillings.  Composite resin fillings are one of the tooth coloured fillings that are commonly used and it is done by sculpting the material directly in the mouth. Porcelain restoration on the other hand is fabricated in the laboratory based on an impression of your teeth and is stronger than the composite fillings.
Over time, amalgam fillings can cause cracks...
At Drummoyne Dental Practice, Amalgam replacement and removal is being done under high speed suction in order to reduce exposure to mercury vapour in the process. Our dentists utilise a rubber dam setup for removal of amalgam restorations, as this greatly reduces the patients exposure to mercury vapour.
Amalgam has the longest clinical service life, but is associated with more tooth fracture. (Australian Dental Journal, 2005)
Implants
To read more about implants visit our page on Dental Implants
Orthodontics
Invisalign – Clear Braces: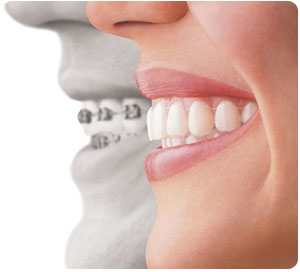 We offer Invisalign at our clinic.  It is the invisible way to straighten teeth without using traditional braces.  Invisalign involves the use of a series of clear, removable plastic aligners to gradually straighten teeth, without metal or wires.  Each aligner is worn for around 2 weeks, followed by the next aligner in the series until the final correct alignement is achieved.  A discussion with the dentist will determine whether this is a suitable treatment option for you.

Removable plates:  As mentioned on our Children's Dentistry page, removable plates are used for some children to fix crooked teeth and crowding, where early intervention is required.